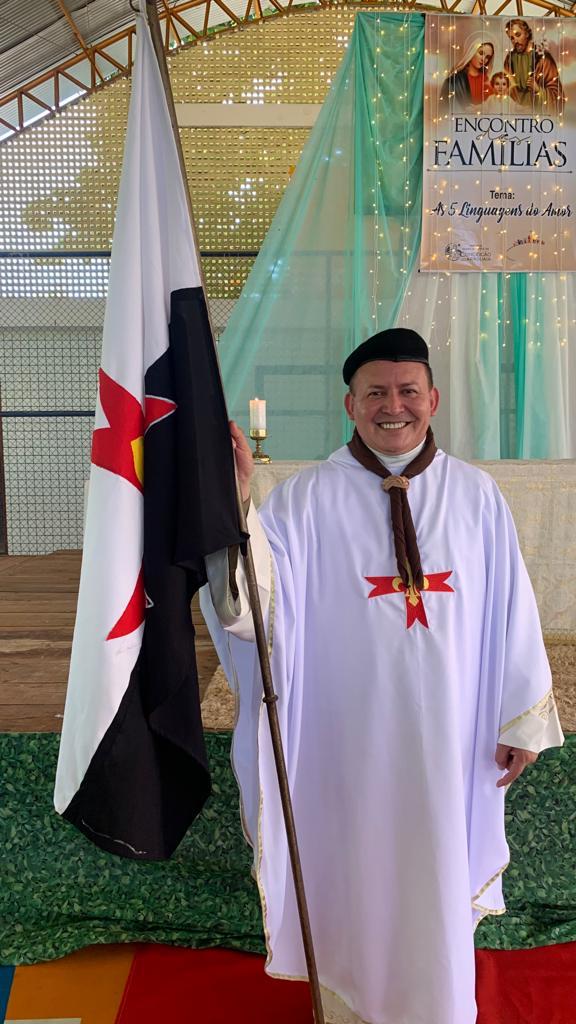 On May 23, 2022, the Meeting of Families of Nossa Senhora da Conceição Parish took place in Conceição do Araguaia, in the state of Pará, northern Brazil.
During the meeting, Father Pedro Viana, parish priest of Nossa Senhora da Conceição Parish in Conceição do Araguaia and religious adviser of the Scout and Guides Catholic Group of Conceição do Araguaia – AGEBR, made his Scout Promise with the presence of the rovers and wayfarers.
Father Pedro Viana has accompanied the groups since their inception, in March 2021. More than accompanying, he participated in the group carrying out the task cards (initial training letters from AGEBR) and other activities, such as camps, routes and team meetings. Always very available and willing to be a part of all Scout activities and the lives of pilots and guides.
With a Scout spirit, the priest embraced this novelty and was a fundamental person for the implantation of the Catholic Scout Movement in the south of Pará, in the North Region of Brazil.
He stated, in front of all the families that participated in the meeting, that he would make his promise very freely and when he felt ready to take such a step. It was an emotional moment!
"On my honour and with God's grace, I promise…"
It was a great moment for the parish and for our movement. Let us pray that more, and more men of faith are willing to live this apostolate of AGEBR's Catholic Scouting.
Semper Parati.
Text and pictures: AGEBR